Free Minds hosts a monthly On the Same Page: Write Night where community volunteers gather alongside Free Minds Poet Ambassadors home from prison to provide feedback on the writing of Book Club members still incarcerated. It is a simple and powerful way to support members' processes of self-awareness and change, as well as read great writing and meet other volunteers! Write Night is held at two locations: Seekers Church in Takoma Park and Western Presbyterian Church in Foggy Bottom. You can join our mailing list to receive updates in your inbox about upcoming Write Nights, or contact us if you have any questions. Write Night is free and open to the public. Anyone is welcome to attend; no RSVP necessary.
The On the Same Page: Write Night program at Western Presbyterian Church is made possible through a grant from the Mid-Atlantic Arts Foundation with support from the National Endowment for the Arts.
The On the Same Page: Write Night program in Takoma is supported by a grant from the Takoma Foundation.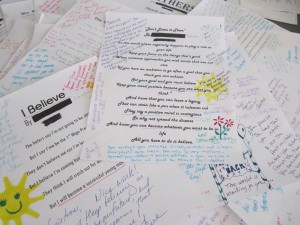 Schedule of Upcoming Events
COVID-19 Update: All events to be held virtually until further notice.
Takoma
Location:
Seekers
276 Carroll Street NW
Washington, DC 20012
Entrance is in the back
Nearest Metro: Takoma
Dates:
February 26, 2020, 7:00 - 8:30 PM * LOCATION CHANGE: Montgomery College
April 22, 2020, 7:00 - 8:30 PM VIRTUAL
June 24, 2020, 7:00 - 8:30 PM VIRTUAL
September 23, 2020, 7:00 - 8:30 PM VIRTUAL
November 18, 2020, 7:00 - 8:30 PM VIRTUAL
Foggy Bottom
Location:
Western Presbyterian Church
2401 Virginia Avenue NW
Washington, DC 20037
Entrance is on 24th Street
Nearest Metro: Foggy Bottom-GWU
Dates:
January 22, 2020, 6:30 - 8:00 PM
March 25, 2020, 6:30 - 8:00 PM VIRTUAL
May 27, 2020, 6:30 - 8:00 PM VIRTUAL
July 22, 2020, 6:30 - 8:00 PM VIRTUAL
October 28, 2020, 7:00 - 8:30 PM VIRTUAL
For a quick tutorial on how to use the virtual platform Miro, watch this video: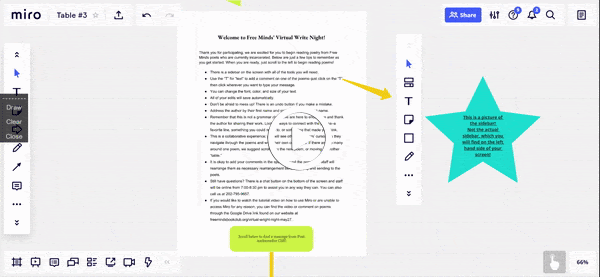 Our staff and Poet Ambassadors thank you for joining us "on the same page!"
A Few Tips:
There is a sidebar on the screen with all of the tools you will need.
Use the "T" for "text" to add a comment on one of the poems--just click on the "T" then click wherever you want to type your message!
You can change the font, color, and size of your text.
All of your edits will save automatically.
Don't be afraid to mess up! There is an undo button if you make a mistake.
Address the author by their first name and sign off using your first name.
Remember that this is about connecting rather than critiquing. We are here to encourage and thank the author for sharing their work. Look for a favorite line, something you could relate to, or something that made you think.
It is okay to add your comments in the space around the poem; our staff will rearrange them as necessary rearrangement before printing and sending to the poets.
Here is an example of a poem with comments from past Miro sessions:
Host a Write Lunch
In addition to our regular Write Nights, we now do mobile Write Lunches with local businesses or organizations that reach out to us.  If you are interested in hosting, please contact us through our event form. If you choose to host a Write Lunch, we will provide a selection of poems for the attendees to read and comment on.  As with our regular Write Nights, all feedback will be mailed to the incarcerated poets!