The love for reading and writing that develops among so many members must continue to be cultivated. As DC has no long-term prison, Free Minds members serve the majority of their sentences in federal prisons across the country. Many receive no letters or moral support from home and the isolation can be crippling. Each month, through the Federal Prison Book Club, Free Minds sends discussion questions, one new book, and creative writing and book review assignments. Free Minds partners with local bookstore Politics & Prose to ship new books to Prison Book Club members across the country.  Free Minds also hosts monthly Write Night events at which volunteers write feedback for the incarcerated poets.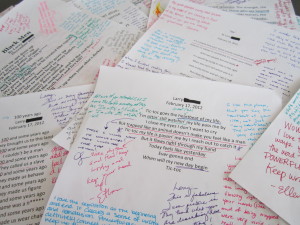 Through regular written correspondence and a bimonthly newsletter (The Free Minds Connect), Free Minds strengthens relationships first built at the DC Jail and continues to monitor and assist members' progress toward achieving their goals.
The newsletter features our Books Across the Miles! long-distance book club. Since 2002, Free Minds has been sending individually tailored book selections to members in Federal Prison. Now, through BAM!, these members also receive the same book every three months. In addition, they will receive a set of discussion questions and writing prompts about the book. Their responses will be featured in the Free Minds Connect, which is sent to over 600 young men in more than 50 prisons across the country. Free Minds Connect offers a place for our members to engage in a written dialogue about the book they have read together.
Click on the image below to read the latest issue:
Read some sample issues of The Free Minds Connect:
Connect Purpose
November/December 2020, Vol 9, Issue 5
Connect Black Lives Matter
September/October 2020, Vol 9, Issue 4
Connect Music
June/July/August 2020, Vol 9, Issue 3
Connect Loyalty
April/May 2020, Vol 9, Issue 2
Connect Remembrance
January/February/March 2020, Vol 9, Issue 1
Connect Forgiveness
November/December 2019, Vol 8, Issue 5
Connect On the Same Page
September/October 2019, Vol 8, Issue 4
Connect Adulthood
July/August 2019, Vol 8, Issue 3
Connect Healing
March/April/May 2019, Vol 8, Issue 2
Connect Journeys + insert
December 2018/January 2019, Vol 8, Issue 1
Connect Parenthood
September/October 2018, Vol 7, Issue 5
Connect Healthy Communication + insert
July/August 2018, Vol 7, Issue 4
Connect Chosen Family + insert
May/June 2018, Vol 7, Issue 3
Connect Education
March/April 2018, Vol 7, Issue 2
Connect Entrepreneurial Spirit
January/February 2018, Vol 7, Issue I
Connect Labels
September/October 2017, Vol 6, Issue V
Connect Nature
July/August 2017, Vol 6, Issue IV
Connect Inside Out
May/June 2017, Vol 6, Issue III
Connect Legacy
March/April 2017, Vol 6, Issue II
Connect Keep It Moving
January/February 2017, Vol 6, Issue I
Connect Empathy
November/December 2016, Vol 5, Issue IV
Connect History
September/October 2016, Vol 5, Issue III
Connect My Sisters and Me
August 2016, Vol 5, Issue II
Connect I Believe
May 2016, Vol 5, Issue I
Connect We Can Be the Change
March 2016, Vol 4, Issue VI
Connect I Resolve
January 2016, Vol 4, Issue V
Connect Family
November 2015, Vol 4, Issue IV
Connect Moving Forward
September 2015, Vol 4, Issue III
Connect DC Our City
July 2015, Vol 4, Issue II
Connect Learning
May 2015, Vol. 4, Issue I
Connect Pride
February 2015, Vol. 3, Issue V
Connect Hope
November-December 2014, Vol. 3, Issue IV
Connect If I Knew Then
September 2014, Vol. 3, Issue III
Connect The Mask I Wear
November 2013, Vol. 2, Issue VI
Connect Temptations
June-July 2013, Vol. 2, Issue IV
Connect RIP Tribute
May 2013, Vol. 2, Issue III
Connect Patience
February 2013, Vol. 2, Issue I
Connect Renewal
December/January 2012, Vol. 1, Issue XVI
Connect Forgiveness
August 2011, Vol. 1, Issue IX
Connect Parenthood
April 2011, Vol. 1, Issue VI