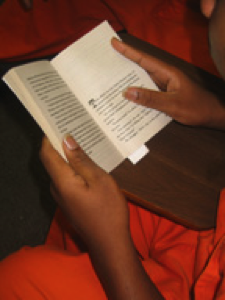 Free Minds recognizes that books and creative writing have the incredible power to teach, build community, inspire individuals and change lives. Our Book Club & Writing Workshop meets every week at the DC Jail where juvenile inmates come together to discuss a work of contemporary literature —an exciting experience for youths who have often had little meaningful exposure to books. The DC Jail Book Club operates democratically with books chosen by majority vote. Members have chosen books like Makes Me Wanna Holler, Nathan McCall's raw account of his troubled youth and his time behind bars, which allow them to feel a personal connection with a book and its author, often for the first time.  Click here for a full list of books read in the Book Club.
Past visitors have included Emmanuel Jal (War Child), Dwayne Betts (A Question of Freedom,Shahid Reads His Own Palm), Jonathan Franzen (The Corrections, Freedom), George Pelecanos (The Way Home, The Wire), Kenji Jasper (Dark, Dakota Grand, Seeking Salamanca Mitchell,The House on Childress Street and Snow), James McBride (The Color Of Water and Miracle at St. Anna), Etan Thomas (More Than An Athlete), Walter Dean Myers (Dopesick, Lockdown), Erin Gruwell (Freedom Writers Diary), Matt de la Peña (Ball Don't Lie, Mexican Whiteboy), Dave Slater (contributing writer to DC Noir), Ellen McCarthy (staff writer for The Washington Post), spoken word artist Messiah, and author, actor, and activist Hill Harper (Letters to an Incarcerated Brother).
Each Book Club member receives a new dictionary and journal to encourage daily reading and writing. Free Minds staff and the larger community provide feedback for the young poets through our writing blog.

Click the image below to read more about Glen McGinnis, our original Free Minds Member.