Free Minds is hosting our next virtual On the Same Page: Write Night on October 28, from 7:00 to 8:30 pm EST!
On October 28, we will host our next Virtual Write Night. All you need is a computer or tablet and an internet connection. If you are using a smartphone, we recommend downloading the Miro mobile app prior to the event.
There will be a live video presentation at 7:00 with remarks from Free Minds staff and Poet Ambassadors.
If you missed the live video presentation, you can view the replay here.
The schedule for the event:
7:00 – 7:30 PM: Live video presentation and Q&A with Free Minds Poet Ambassadors
7:30 – 8:30 PM: Read and respond to poems using the Miro virtual tables (this page will be updated with links)
For a quick tutorial on how to use Miro, watch this video: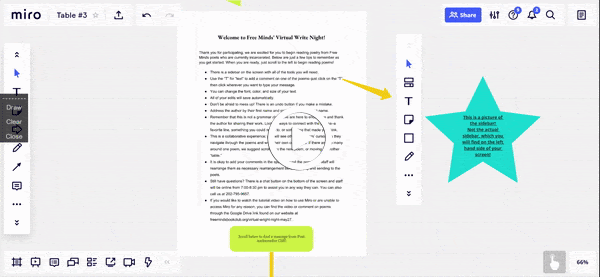 Our staff and Poet Ambassadors thank you for joining us "on the same page!"
These links to the virtual tables on Miro will be live at 7:00.
If these pages are loading slowly due to high traffic, you can find the same poems at these duplicate tables:
If you are unable to access Miro for any reason, you can read poems through Google Drive, and post your comments to this document. Our staff will compile all comments and send them to the poets, just like we do with comments on Miro.
A Few Tips:
There is a sidebar on the screen with all of the tools you will need.
Use the "T" for "text" to add a comment on one of the poems–just click on the "T" then click wherever you want to type your message!
You can change the font, color, and size of your text.
All of your edits will save automatically.
Don't be afraid to mess up! There is an undo button if you make a mistake.
Address the author by their first name and sign off using your first name.
Remember that this is not a grammar class. We are here to encourage and thank the author for sharing their work. Look for ways to connect with the poems–a favorite line, something you could relate to, or something that made you think.
This is a collaborative experience; you will see other volunteers writing their own comments. If there are too many around one poem, we suggest scrolling to the next poem, or moving to another "table."
It is okay to add your comments in the space around the poem; our staff will rearrange them as necessary rearrangement before printing and sending to the poets.
Still have questions? There is a chat button on the bottom of the screen and staff will be online to assist you in any way they can. You can also call us at 202-795-9657.
Here is an example of a poem with comments from past Miro sessions: