Using poetry to connect incarcerated youth and adults with their communities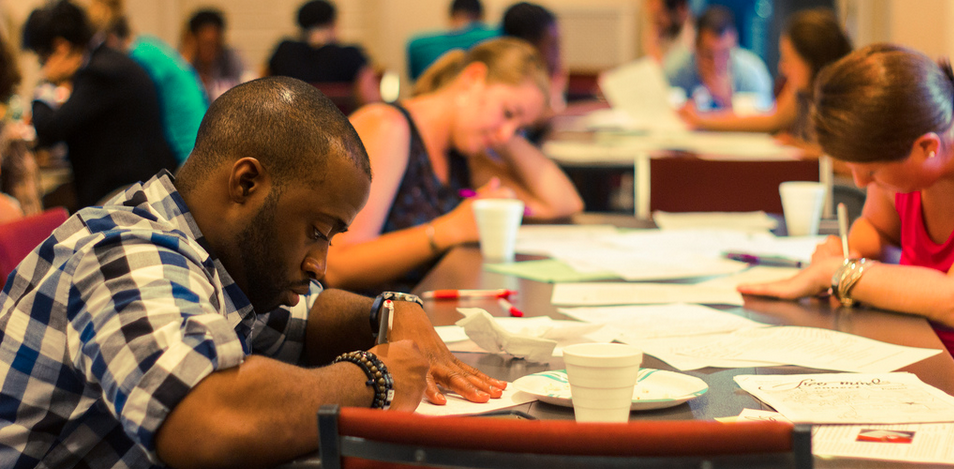 *A project of Free Minds Book Club & Writing Workshop with the generous support of the Booz Allen Aspen Ideas Award
THE PROBLEM:
More than 600,000 state and federal prisoners will be released in the coming year. Most will return home feeling alienated and carrying the stigma of an "ex-offender" label that makes it difficult to find a job or a place to live. The challenges of successfully reentering society lead more than 67% of people released from prison to recidivate, committing new crimes or violating the conditions of their release and landing right back in prison. This has enormous social and financial costs to both families and the community.
CREATING CRITICAL CONNECTIONS:
Since 2011, Free Minds has been hosting community gatherings where poems written by local youth and adults are read by a diverse group of volunteers who then write comments and encouragement in colorful ink, literally "on the same page." Those pages are then sent back to the poets. The impact is powerful and transformative. Incarcerated youth and adults feel like a part of their community—often for the first time in their lives.
"I was shocked to learn I had love and support from people who didn't even know me. I felt needed and useful. It let me know that I'm a part of something bigger!" – Robert, 22, in a letter from prison after receiving written feedback on his poems.
People on the outside experience the writers as human beings who are so much more than the crime they committed.
"The poem I read was written by Marcus who is struggling with addiction. My brother is an addict. For decades, his addiction has turned our family upside down and has caused a lot of bitterness. Reading Marcus's words was like this enormous light bulb going off for me! While I thought I'd put myself in my brother's shoes before, Marcus's poem suddenly made me feel sincere empathy and understanding. I am so grateful to him and I told him so in my written comments. This was one of the most powerful and healing events that I have ever been a part of!" – Ann, volunteer at On the Same Page UNITED
Creating these critical connections between people in prison and their communities before they are released can help us stop the cycles of violence and incarceration and begin to promote healing.
THE NATIONAL PROJECT:
In July 2015, Free Minds won the first annual Aspen Ideas Award, a prize of $25,000, for On the Same Page UNITED, which replicates on a national level an extremely low-cost/high impact model that has proven hugely successful since 2011 in Washington, DC.

As the first year pilot project concludes, On the Same Page UNITED teams have already launched the project in seven communities: Brooklyn, NY; Arlington, VA; Takoma Park, MD; Denver, CO; Louisville, KY; San Francisco, CA; and Portland, OR. Programs are pending launch in Michigan, Texas and Massachusetts.
Contact us at OTSPU@freemindsbookclub.org for more information on how you can get involved in On the Same Page UNITED!
LAUNCH ON THE SAME PAGE UNITED IN YOUR COMMUNITY!
If you are interested in assembling a team to create connections between inmates and their communities in your state, please contact us at OTSPU@freemindsbookclub.org. We will provide a complete replication kit so you can get started!
By recognizing our shared humanity, we can build stronger, safer and better communities. 
 We all just need to get On the Same Page.