In August, Free Minds is calling on our volunteers to share our members' poems far and wide by participating in personal Write Nights with friends, family, colleagues, or other members of your community. We will not be hosting a public event in August, but you can still read and respond to poetry by incarcerated writers–and you can do this all month long!
For August
Write Night, instead of having one single event on a specific night, we are posing a challenge to our volunteers to see how far we can spread Free Minds poems geographically during the whole month of August. We ask folks to reach out to friends, family, and colleagues in all corners of the globe. Encourage them to join our movement by reading and responding to our members' poetry online. Contact
emily@freemindsbookclub.org
for more information.
For a quick tutorial on how to use Miro, watch this video: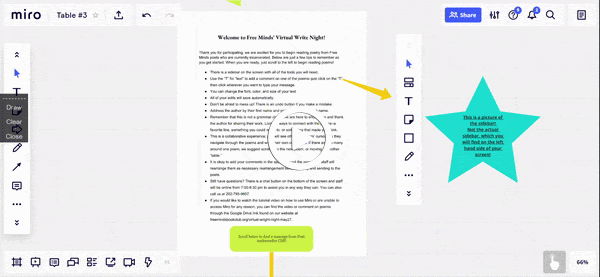 Our staff and Poet Ambassadors thank you for joining us "on the same page!"
A Few Tips:
There is a sidebar on the screen with all of the tools you will need.
Use the "T" for "text" to add a comment on one of the poems–just click on the "T" then click wherever you want to type your message!
You can change the font, color, and size of your text.
All of your edits will save automatically.
Don't be afraid to mess up! There is an undo button if you make a mistake.
Address the author by their first name and sign off using your first name.
Remember that this is about connecting rather than critiquing. We are here to encourage and thank the author for sharing their work. Look for a favorite line, something you could relate to, or something that made you think.
It is okay to add your comments in the space around the poem; our staff will rearrange them as necessary rearrangement before printing and sending to the poets.
Here is an example of a poem with comments from past Miro sessions: